High-speed stable take-out of ultra-large molded articles
Yushin RB 1300 High Speed Robot Brochure
Yushin RB3000 High Speed Robot Brochure
The take-out robots of the RB-II-HS series enhance the production efficiency of large molded articles like automotive, home appliance and housing parts, by stably and steadily taking out molded parts at high speed and greatly shortening molding cycles. The series also comes with an easy-to-use E-Touch II Controller and 10.4 inch full-color touch panel as a standard feature.
Features
High-speed movements on all drive axes

RBⅡ-α-3000S-HSBecause the "kick", "vertical" and "traverse" axes all move at high-speed, the full operation cycle is shorter.

Shorter operation cycle

RBⅡ-α-3000S-HSTake-out cycle: 5.50 sec
Full operation cycle: 30:00 sec

Faster drive axes in take-out operations

RBⅡ-α-1300S-HSHigh-speed movements by the "kick" and "vertical" axes effectively shorten take-out time, which means molds need to be open for lesser amounts of time. (Full cycle high-speed support is available as an option.)

Shorter mold open time

RBⅡ-α-1300S-HSTake-out cycle: 1.30 sec
Full operation cycle: 11:75 sec

Easy-to-access and use control functions

Equipped with the E-Touch II ControllerIncluded as a standard feature, the E-Touch Controller makes it easy to control and operate robots by way of a touch panel, audio guidance and operation flowcharts.

Longer up time thanks to high-level functionality

Built-in predictive maintenance and troubleshooting supportA predictive maintenance system assists users in scheduling regular maintenance, which effectively minimizes the likelihood of unexpected troubles that require sudden servicing. In any case, if an error occurs, troubleshooting data that makes it easier to pinpoint the cause is logged.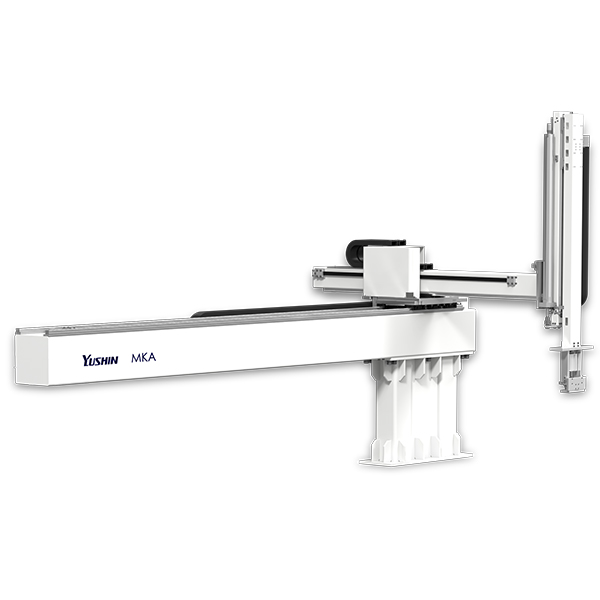 MKA-2000S: Large, Powerful Take-out Robots
NEW Yushin Product!
Powerful Selection of Standard Features
Powerfully automate extraction of large, heavy molded parts such as automobile parts, housing appliances, and parts for industrial equipment. The MKA-2000S can handle payloads of up to 50 kg (including the end-of-arm tool) and stably take out ultra-large molded articles.
The MKA-2000S robot features a 3-axis, Cartesian style traverse robot with a movable kick beam and a 2-stage telescopic vertical arm. The long rigid, steel traverse beam is adjustable up to 5000mm, with a horizontal reach of 1800mm and a telescopic Arm with vertical strokes up to 3000mm. The MKA-2000S robot works on machines of 1500 molding tons or larger.
In addition to the 3-axes motion, a servo AC or BC wrist unit can be added, allowing for additional articulatory movements for complex EOAT motion. Two types of servo-powered wrist units are available as an option, enabling precision control and motion comparable to an articulated 6-axis robot. The MKA robot can lift up to 50kg.
The MKA-2000S has been tested and proven to exceed its previous larger counterparts like the RBII-2500S with shorter take-out times by 17%. The low profile design of the MKA allows for work envelopes with lower overhead clearance. It's superior vibration damping during movement and stops helps ensure stable and shorter cycle times by 10%, compared to previous larger models.